Gibts gerade auf Dime
http://www.dimeadozen.org/torrents-deta ... ?id=298540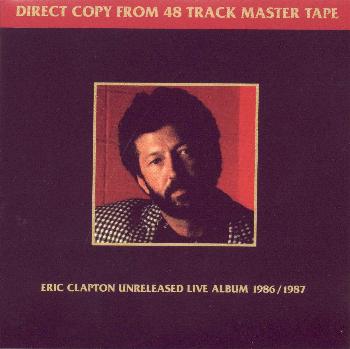 Eric Clapton
"The Unreleased Live Album 1986 / 1987"
Various dates and venues
EC Is Here / DJ Copy 33 / 34 - SB 6
* Note To Mods: Portions of the performance from 1986-07-14 were officially released on DVD as "Eric Clapton and Friends 1986", however, the track included here (D2T5, "Further On Up the Road") from that performance was not included on the official release! *
Disc 1:
1. Crossroads (1)
2. White Room (1)
3. Hung Up On Your Love (1)
4. Wonderful Tonight (2)
5. Miss You (3)
6. Tearing Us Apart (4)
Disc 2:
1. Holy Mother (3)
2. Badge (5)
3. Let it Rain (5)
4. Layla (1)
5. Further On Up the Road (6)
6. Crossroads (5)
7. Further On Up the Road (5) (*)
Band Lineup:
Eric Clapton Guitar, Vocals
Nathan East Bass
Greg Phillinganes Keyboards, Backing Vocals
Phil Collins Drums
(*) Special Guest Robert Cray
Recording Dates:
(1) 1987-01-12 - Royal Albert Hall, London, England
(2) 1987-04-26 - Civic Center, Providence, Rhode Island, USA
(3) 1987-01-10 - Royal Albert Hall, London, England
(4) 1987-01-11 - Royal Albert Hall, London, England
(5) 1987-04-27 - Madison Square Garden, New York, New York, USA
(6) 1986-07-14 - National Exhibition Centre, Birmingham, England
Lineage:
Silver > Kodak Gold CD-R > LiteOn iHAP 322 (UL 18 Firmware) > EAC v. 0.99 Prebeta 5 (Secure, Offset Correct) > FLAC
Artwork, checksums, EAC extraction logs, and info file included.
Geetarz Comments:
A number of shows in 1986 and 1987 were recorded for the release of a live album. However, with the pending release of the then-groundbreaking "Crossroads" box set, the project was shelved lest it compete commercially.
There are a number of ROIO releases purporting to be the "Unreleased Live Album", and to the best of my knowledge, most are based only on speculation as to what the track list of the speculative live album would have been, and sourced from the various soundboards that have made their way into circulation. So, we really have no idea what an actual official release might have contained, but I'd like to think that this particular release might be a really good guess as to what it might have included.
As always, play it loud and enjoy!
April, 2010
http://www.geetarz.org
http://launch.groups.yahoo.com/group/ClaptonBoots/
Visit the new Eric Clapton Wiki at:
http://www.ericclaptonwiki.com/index.php?title=1987